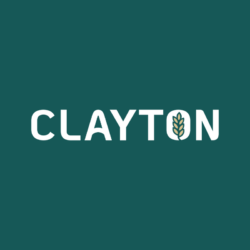 Website https://twitter.com/Clayton_PP_Ltd Clayton Plant Protection Ltd
Clayton Plant Protection Ltd is a family Irish-owned company and a trusted supplier of Plant Protection products for over 30 years.
About Clayton Plant Protection
Clayton Plant Protection Ltd is a family Irish-owned company and a trusted supplier of Plant Protection products for over 30 years.
As a customer-centric organisation, we strive to provide a positive customer experience across all business areas, build long-lasting relationships and drive repeat business through customer loyalty. We achieve this through our agility and reliability to deliver the product on time. Integrity, respect, honesty and accountability being core to our culture.
To support our continued success, Clayton now has a requirement to extend its Regulatory team with the following strategic position available. Flexible working arrangements, including remote/hybrid working models, are offered.
Overview
Reporting to the Regulatory Affairs Manager, this strategic position involves preparing and submitting regulatory applications in key markets in the EU, acting as Project lead in support of the new product development programme and renewal of existing product authorisations. This strategic position will offer the right candidate the opportunity to work in a strong collaborative team environment, have significant involvement in decision-making and participate in the development of regulatory strategy.
The position requires strong communication skills in order to build and maintain strong relationships with Regulatory Authorities, consultants, contract research organisations (CRO's) and to provide a respectful, professional service both internally and externally. Excellent project management and multitasking skills are a requirement to ensure that the company's regulatory objectives are met in a planned and timely manner.
The ideal candidate will have a minimum of a BSc in a Life Sciences/Science/Agronomy subject, including significant experience (minimum 3+ years) and knowledge of regulatory affairs in a generic R&D Company, consultancy or CRO. Basic knowledge of the crop protection industry: technical, commercial, farming techniques, crop-specific issues, etc. is desirable but not essential.
English is essential, with fluency in one other major European language desirable.
Key skills:
Project management and multitasking skills
Strong communication skills
Team player
Solution focussed.
Ability to build and maintain relationships
Fluent knowledge of written and verbal English
Highly organized and result-oriented.
To apply for this role, please email your CV to dave@claytonpp.com we look forward to hearing from you.