With residual herbicide performance often at the mercy of the weather, achieving 97% blackgrass control is no easy task, so how can growers sway the odds in their favour this autumn? Adjuvants could be the answer, says Interagro.
The challenge
The start of a new cropping calendar marks the start of a new chance to reset the score in the blackgrass battle and the perfect opportunity to get on top of weeds early ahead of winter.
Stale seedbeds, late drilling, and robust stacks of pre-emergence herbicides with differing modes of action maybe the best weapons at the disposal of growers but the trick is to get them working as effectively as possible, says Stuart Sutherland, technical manager at Interagro.
"While late drilling reduces the germination window for blackgrass we're told that dormancy is high for autumn 2021. Therefore, we could see protracted germination. To tackle this, long lasting residual activity will be required to control repeat flushes which may emerge over time, as well as possibly a peri-emergence follow up – but hopefully not a post-emergence as well."
Later in the season, wetter conditions are more likely to be seen which can be a real threat to herbicide performance and safety, adds Stuart. "For weed control success, residual herbicides must be retained in the weed germination zone – the top 5cm of the soil – for as long as possible to control flushes that germinate over time.
"A longer presence of the herbicide in this soil layer contributes to better uptake of the active substance by germinating weeds, which ultimately increases the effectiveness of the herbicide."
However, with heavy rain even herbicides with low mobility can be lost from the top 5cm, reducing herbicide efficacy and increasing the numbers of weeds that may emerge with the crop, he explains. "With excessive rainfall there may also be a risk to crop safety and groundwater, particularly in lighter soils where there is a heightened risk of mobility and less organic matter for herbicide retention."
The solution
So what's the solution?
According to Mr Sutherland, these risks can be easily mitigated with the addition of an effective residual herbicide adjuvant to retain herbicides in the weed germination zone and minimise movement lower down. "Not all residual herbicide adjuvants are effective, though, so it's worth checking out the data."
Interagro's adjuvant Backrow is well-proven and has been heralded top performer in recent research.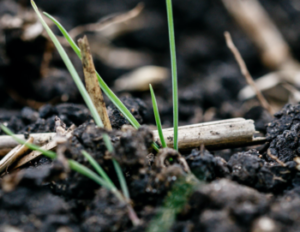 "The addition of Backrow pre- and peri-emergence optimises the concentration of herbicide in the weed uptake zone and reduces it in the crop germination zone so it's a total win-win – improved weed control, with a greater chance of controlling flushes that may germinate over time, and with benefits to crop and groundwater safety," he says. "What's more, the stacking of residual herbicides heightens the safety risk, so the addition of Backrow is a crucial safener in wet soils."
There's also an important practical side for growers to consider when it comes to application. "Residual herbicides must be applied uniformly to a firm, fine seedbed but pre-emergence applications to bare soils are prone to drift," notes Mr Sutherland.
"No doubt many growers will be making good use of drift reducing nozzles, and while these really get over the drift issue, the bigger droplets reduce coverage across the soil surface – which is the target for pre- and peri-emergence herbicides."
Here is where the addition of Backrow may be useful again, he adds. "Spray application tests in official trials and on-farm with a range of nozzle types, including drift reducing nozzles, have shown that Backrow creates the optimum size spray droplets to help minimise drift and enhance deposition for precise coverage."
In terms of how this is quantified, 52 trials – using a range of residual herbicides – revealed an average 9% benefit where Backrow was included.
"A combination of DRT and Backrow therefore offers the best tools for growers to minimise the weather constraints on herbicide performance and get one up on blackgrass and other hard to control grassweeds this autumn," he concludes.
To learn more about the threats to herbicide performance and the latest Backrow research visit: https://bit.ly/39rhsaH