Supporting the development of novel biological product solutions to help growers meet the evolving demands of sustainable crop production, is the aim of a new campaign from CHAP.
Changing Perceptions brings together a range of CHAP projects, collaborations and activities that all strive for the same goal – facilitating evidence to improve trust and therefore uptake of biosolutions.  
With pressure increasing on synthetic plant protection products and their availability, ensuring quality within the marketplace for alternative control methods is becoming ever important.
Commercial director for CHAP, Linsey Cresswell said: "Although the market appears abundant with non-chemical solutions such as biopesticides and biostimulants, there can remain a reluctance at an on-farm level to truly commit to their use.
"Historically, a lack of evidence has been credited for this, which could be due to the large investment required to scale-up production and run robust replicated R&D trials, as well as it being a relatively unknown scope of active ingredients.
"The purpose of our campaign is to change perceptions, and we aim to do this by using our state-of-the-art capabilities and case studies to demonstrate efficacy and the value of this important product segment.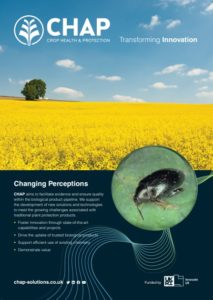 "There is so much innovation within the UK to tap into, we have the technology and capabilities at our fingertips. We just need to collaborate and drive it forward to give farmers the options they need to support a sustainable farming future."
Although only recently launched, the ethos of the Changing Perceptions campaign has long been embedded within the work of CHAP. One of the current five strategic areas of focus for the agri-tech centre is Innovative Crop Health Strategies – the cornerstone of the campaign's development. 
A project currently taking place in conjunction with CHAP Partner CABI and with support from Russell IPM, is developing a new biopesticide to control cabbage stem flea beetle in oilseed rape. This uses an isolate from one of CHAP's more recently launched capabilities,  the National Reference Collection. This online database is the first of its kind for the UK, offering access to and storage of crop-related microorganisms to help inform the development of new biopesticides.
Strategic marketing manager, Janine Heath, said: "Launching this campaign is a way of showcasing the excellent work that's currently taking place across our network at a higher level – from academia and research, to industry and entrepreneurs. 
"There's still so much to learn about biosolutions, and herein lies our opportunity, because amalgamating our activities through Changing Perceptions has the potential to be very powerful. 
"As we move through the campaign we'll be sharing a wealth of content on the subject, as well as hosting online webinars and sharing the message at trade events such as Groundswell and Cereals.
"We want to paint a detailed picture of what is possible both now, and in the future, thanks to agri-tech innovation."
For more information, visit www.chap-solutions.co.uk or to suggest an idea for a future project, contact enquiries@chap-solutions.co.uk