DuPont has launched the first of its new generation of liquid sulfonyl-urea herbicides, giving UK cereal farmers a cost-effective and reliable new solution for the control of cleavers and other important broad-leaved weed species in winter wheat and barley.
Provalia LQM (metsulfuron-methyl + thifensulfuron-methyl + fluroxypyr) is a highly active new herbicide combining effective active ingredients in a new liquid formulation that ensures improved spray retention, uptake and translocation by the weed, resulting in faster activity and better performance under marginal conditions.
The other benefit of combining active ingredients such as fluroxypyr is that the control of some ALS resistant weeds such as chickweed can be optimised.
As well as working faster, Provalia LQM is more effective against larger weeds and has an unrivalled weed spectrum of over 40 weed species, including many troublesome weeds and cleavers.
Data from 26 trials across the UK between 2012 and 2015 shows Provalia LQM performing better than current standards against cleavers under a range of environmental conditions.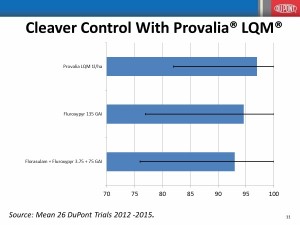 Unique to Provalia LQM is the fact that it can also be used as part of a three-way sequence with other ALS herbicides such as FPU and mesosulfuron and Atlantis WG.
Until now, a maximum of two applications of ALS herbicides have been allowed, which has restricted the choice of a spring herbicide when growers had used FPU and Atlantis WG as part of their autumn grassweed strategy.
With the introduction of Provalia LQM, growers now have the flexibility to follow up in the spring with the most effective option for broad leaved weed control.
"Predicted cold weather in the coming weeks is likely to trigger germination of spring weeds such as the polygonum species, creating a potential spring weed control challenge for agronomists. With greater activity against these weeds, Provalia LQM will prove an important addition to spring herbicide control options," says Dupont herbicide product manager Alister McRobbie.