A new winter oilseed rape variety which delivers yield, disease resistance and early hybrid vigour is set to become a welcome addition to growers in the UK and Ireland this year.
The first farmer orders for PT303 from Pioneer, the seed brand of CortevaTMAgriscience, have been placed as growers make important decisions on the traits and characteristics they need for drilling this autumn.
PT303 was registered in early 2021 and delivered the highest yields in each region in AHDB Candidate List trials, including a UK region gross output of 111%.
This variety is the first to showcase Pioneer's Protector Sclerotinia trait, offering inherent, genetic tolerance to a disease which, if left unchecked, can decimate crops in wet, humid conditions.
Andy Stainthorpe, Seeds & Inoculants Manager at Corteva, says PT303 is a plant breeding breakthrough and provides an all-round package for growers who choose varieties with strong characteristics.
Mr Stainthorpe said: "Variety choice has always been extremely important, but with evolving pest and disease threats and the desire to meet buoyant market demand, we believe excellent establishment, good disease ratings and big yield potential will appeal to many growers."
Prices for oilseed rape have soared and, at times, have been 40% higher year on year with prices recently quoted at £420/tonne for the 2021 crop.
Mr Stainthorpe said: "Whether market conditions, coupled with new technologies such as a sclerotinia tolerance trait, leads to an increase in the oilseed rape area remains to be seen, but the fundamentals of establishing well and carrying that potential through to yield will remain key.
"Although sclerotinia incidence has so far been low this year, the AHDB has flagged a number of alerts in the North West and Scotland this season and the risk has not been eradicated altogether despite favourable weather conditions.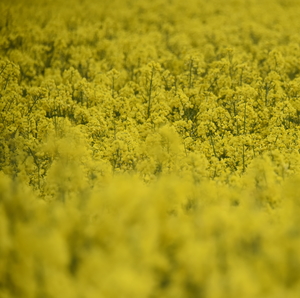 "The disease occurrence is not limited to any one location or soil type, so adding a layer of protection is vital for all growers to ensure it is kept at bay. An outbreak is capable of reducing yields by as much as 60%, turning a crop with potential into one that fails to deliver."
Corteva trials show that when sclerotinia infection is at 25% or above, the severity of the disease was reduced by up to 75% with PT303.
The full efficacy of fungicide use is dependent on good application timing but combined with this new tolerance trait, farmers have more tools in the box to deal with potential disease.
Mr Stainthorpe added: "Even where growers have spread oilseed rape more widely in their rotation, sclerotinia remains a threat since the sclerotinia resting bodies that harbour the infective spores remain viable for up to eight years.
"PT303 will be considered for addition to the 2022 AHDB Recommended List at the end of this year. AHDB trials have already shown it has very high yield potential, scores 7 for phoma and 6 for light leaf spot. It combines proven TuYV resistance with the newly claimed sclerotinia tolerance trait.
"Early vigour and tall, strong stems will appeal to growers looking to choose a reliable seed option with good all-round characteristics that can grow away from pests during the autumn."