New research has highlighted the benefits of both seed-applied and foliar biostimulants, which could provide a useful aid to growers as spring crop growth gets underway.
The trials – commissioned by Interagro – were conducted by Dr Steve Rossall, University of Nottingham to explore further the capabilities of two of its products, Newton – a peptide-based biostimulant seed treatment – and Bridgeway, an amino-acid derived product which has been proven to promote healthier, higher-yielding crops.
The aim of the research was two-fold: to investigate the effect of seed applied Newton on early root and shoot growth in spring barley in a drought situation, and to look at the effect of foliar-applied Bridgeway on winter wheat development at differing nitrogen levels.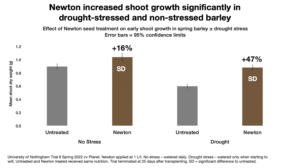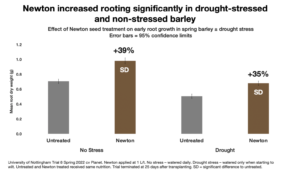 In the Newton/spring barley trials, the seed treatment was applied to plug plants of the variety Planet, and raised in peat-based module compost until the second leaf had emerged.
Following this, they were then transplanted into deeper pots filled with hydroleca – an expanded clay pellet substrate.
Half of the plants were watered daily, while the other half were only irrigated after they displayed early signs of wilting – replicating an in-field drought scenario.
Dr Rossall concluded that Newton enhanced root and shoot development in spring barley and that these effects were seen in unstressed and drought-stressed plants. Statistically, this was represented as a 16% increase in shoot growth under no stress, and a 47% improvement under drought conditions. "The greatest effects were seen on root development, and this allowed better survival in field soil when water was withdrawn. In a real-life setting, this would mean a plant was much more likely to survive and perform well, despite external stress-factors like droughts."
Turning focus to Bridgeway and the research showed a positive effect on root and shoot development when the amino-acid based biostimulant Bridgeway was applied at 2 L/ha to winter wheat at GS12-14.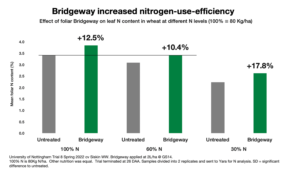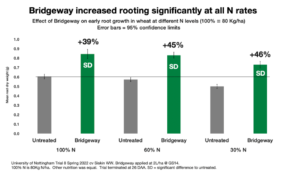 The methodology was similar to the spring barley research, but for this study, KWS Siskin was the variety of choice and plants were fertilised with varying levels of nitrogen (100% N being equivalent to 80 kg/ha).
At the four-leaf stage, Bridgeway was applied as a foliar treatment and monitoring continued up until 26 days post application.
Root and shoot growth were assessed, highlighting a significant positive effect where Bridgeway was used. What's more, these results were seen at 100% (39% rooting increase), 60% (45% rooting increase) and 30% (46% rooting increase) nitrogen levels – in comparison with untreated plants.
A nitrogen analysis was carried out to measure the amount of nitrogen in the leaves. All Bridgeway treated plants had higher levels of nitrogen in their leaves, compared with untreated plants, which showed Bridgeway was more efficient at helping the plant to take up the nitrogen. What's more, at the 60% trialled level of nitrogen the Bridgeway treated crops had as much nitrogen in their leaves as the untreated at 100%.
SPAD meter readings, used to measure greenness (chlorophyll), showed Bridgeway treated plants had significantly higher levels. This is vital for helping to increase efficiency of photosynthesis.
While the latest Bridgeway work focused on winter wheat, comparable results have been seen when used in spring barley at GS12-14, explains Stuart Sutherland, Interagro's technical manager, which could prove useful as the main spring crop growth window gets underway. "Spring crops have a lot to do in a short amount of time, so getting the crop off to the best start as possible is key to reaping the rewards at harvest time.
"In our previous trials on spring barley, applying Bridgeway at GS14 proved to be a significant timing to improve both rooting and better biomass as a result of improved uptake of moisture and essential nutrients."
In a season where nitrogen is in the headlines for all the wrong reasons, having a tool in the armoury to ensure every gram of fertiliser applied is available to the crop – and that performs under low fertiliser levels – is invaluable, adds Stuart. "While it would be wrong to say a biostimulant can help growers reduce their reliance on fertiliser, the reality is that we know many farmers are facing lower-than-usual supplies this year and so N rates are going to be affected by that. Therefore, incorporating a product like Bridgeway into the mix could prove to be especially beneficial this season and for seasons to come."
To learn more the benefits of both Newton and Bridgeway visit: www.interagro.co.uk