Early disease infection can significantly limit growth and yield potential of both wheat and barley so priority should be given to keeping disease in check as soon as spring growth begins, warns Hutchinsons Technical Development Director, Dr David Ellerton.
"Our experience from the extremely high rainfall conditions of last season has exposed the difficulties of trying to control Septoria tritici infections once they have become established on the leaves."
"Wherever possible this season, growers will need to ensure that disease is prevented from spreading up the plant by adopting a strong protectant approach, not just at the T0 (mid to late tillering) stage but also at the so called T1 timing of GS 30-32 which is targeted to protect final leaf 3."
He recommends that in order to try to avoid foliar diseases infecting newly emerged leaves, it is vital that the gap between any T0 and T1 sprays should not exceed 3 to 4 weeks, and that the inclusion of a multi-site active ingredient, such as chlorothalonil or folpet in any T1 spray will help to prevent relying on curative measures of control should the septoria become established within the crop.
He points out that the inclusion of other active ingredients in the T1 spray should be determined by disease risk, based on weather patterns and varietal susceptibility.
"Utilising the latest Seedstats information, showing the likely area of varieties sown this season and the latest AHDB recommended list, it gives a clear insight as to the disease risk of the top 13 varieties of winter wheat."
"This table clearly shows a high susceptibility of a number of key varieties to Septoria tritici, where a high dose of a strong triazole fungicide based on prothioconazole or epoxiconazole should be utilised, in addition to a multi-site product."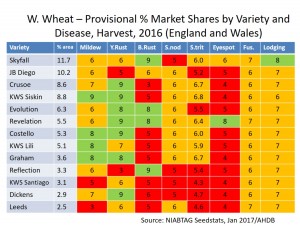 Table 1: Varietal disease susceptibilities of winter wheat ranked by likely area grown, 2016/17 season
"Consideration should also be given to including an SDHI fungicide at this timing, particularly if the weather has been suitable for disease development or an extended gap between the T0 and T1 spray suggests a level of curative control may be needed."
"Bixafen and fluxapyroxad (Xemium) offer very good septoria control and the new SDHIs this season, benzovindiflupyr (better known as Solatenol) and fluopyram (in combination with bixafen), have both shown good activity in Hutchinsons and independent trials."
Dr Ellerton advises that all crops should be monitored closely to avoid rust issues this spring and careful choice of active ingredients should be made to give rapid knockdown of established disease.
"This includes active ingredients such as the triazoles; epoxiconazole, tebuconazole, cyproconazole and metconazole while strobilurins including azoxystrobin and pyraclostrobin offer an alternative mode of action against rusts," he says.
Consideration should also be given to the control of stem base and root diseases such as eyespot and take-all, particularly in second wheats.
"Inclusion of certain strobilurin fungicicides (e.g. azoxystrobin and fluoxastrobin) can help reduce take-all as well as promoting rooting in more backward crops; which may be of value in scavenging for nutrients, or helping overcome possible drought later in the season. "
"Certain SDHI fungicides can also increase rooting and show some eyespot activity, adding to the justification for their use at earlier timings."
Winter Barley
In winter barley, the T1 fungicide timing during stem extension and early node formation (GS 30-31) has been shown to be crucial in optimising yield potential, says Dr Ellerton.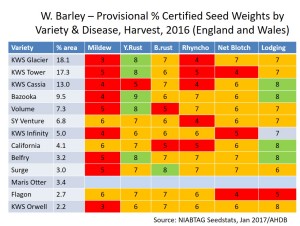 Table 2: Varietal disease susceptibilities of winter barley ranked by likely area grown, 2016/17 season
Recent trial results have shown that SDHI based products such as bixafen, isopyrazam or fluxapyroxad are particularly effective against the key diseases of Rhynchosporium and net blotch and in most cases programmes should be based around this chemistry.
He notes that the latest entry into the SDHI arena, benzovindiflupyyr (Solatenol), has also shown good activity in trials to date and should be considered as a good alternative option.
However, he also adds that recent work by AHDB has indicated the possibility of strains of net blotch which are less well controlled by SDHIs, so any fungicide mix will need to contain a different mode of action, such as the triazole prothioconazole.
Consideration should also be given to adding a multi-site ingredient such as chlorothalonil or folpet, which often show an increase in yield in trials, he says.
He advises that where varieties are susceptible to powdery mildew and while prothioconazole offers a good level of control, it may be necessary to add a specific mildewicide such as proquinazid or fenpropimorph.