Linking up the needs of grower, processor and markets is notoriously difficult to achieve, never mind sustain and grow. However, this is exactly what is happening through a collaboration of industry and growers in Yorkshire that has led to profits for all the partners in the chain.
I'Anson Brothers Ltd is one of the leading independent animal feedstuffs manufacturers that use pulses in its rations. The company has a history of working closely with pulse breeders and growers to ensure that new pea and bean varieties are suitable for processing to meet the requirements of its customers, but also offer appropriate on-farm agronomics which make them easier and more cost-effective to grow.
Now trading in 26 countries, and seeing increasing demand for animal feed from the continent, I'Anson chairman Chris I'Anson, points out the importance of consistency of supply of quality pulses into the plant, as rations are not changed frequently.
Buyer for I'Anson, Howard Jackson, points out that it is possible for growers to achieve these quality premiums with close attention to detail when growing the crop. "This starts with choosing the right variety, then focussing on the required inputs and managing the harvest timing to avoid bleaching – the main culprit for loss of quality."
"For example, flaked micronized peas are a key ingredient for many of these mixes, and colour is the key quality that we are looking for. We are aiming to produce a big flake that's as green as possible which adds to the visual appearance that ultimately attracts consumers."
Managing harvest timing is critical as the key cause of bleaching is exposure to rain and sun. "Often leaving the crop until 15% moisture means that damage may have already occurred so one way of preventing this is to harvest at 18-20-% moisture, when the peas are still green."
"Get out into the field and look at the crop, if you think it's nearly ready, then get it in. Don't be tempted to leave it for a day or two to try and save on drying costs. Cutting earlier also means stiffer straw and the canopy stands better, making it easier to combine, reducing the risk of shedding."
"Choose a variety that is earlier maturing as it is possible to help avoid clashes at harvest, particularly these days when many wheat crops are being drilled later to help with black-grass control."
A popular variety to date that has been on the market for some time, is the small blue pea Zero 4, despite many newer higher yielding varieties on the Recommended List, because it is earlier to harvest, and has good standing power.
I'Anson Brothers Ltd work closely with breeders and run their own trials which growers are invited to. "This means that we can see first-hand and discuss how pipeline and newly recommended varieties are performing in local conditions, and if they are fit for purpose," says Mark Sampson of Acclom House in Well, between Masham and Bedale, who runs the trials on behalf of I'Anson
There are some interesting varieties coming through the system, that offer significant benefits to growers and the processors, explains George Hunter, pulses product manager with Limagrain UK. "As breeders, we are committed to pulses and are unique in our significant investment in the breeding of varieties of peas and beans to suit different farm situations and markets."
"Recommended in 2016, the large blue Kingfisher is early to ripen and has shown excellent standing power. "
"LG Stallion recommended in the 2017 PGRO RL will be another one to watch as this is at the top of its game in terms of consistent yield (102%) and agronomic characteristics."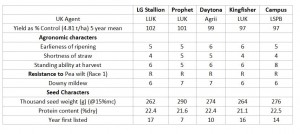 Beans are and have been an integral part of many of I'Anson feeds for many years, "historically much of the compound trade has not used beans as there used to be an issue with continuity of supply, but this is no longer an issue. However, beans are increasingly going into fish feed so we need to ensure that we can continue to get the volumes and quality that we need," says Mr Jackson.
"When the spring bean Fuego was launched onto the market almost 10 years ago, we had a variety that gave us what we needed in terms of size and consistency, and growers had a variety that they could grow and make some money from. It's still up there as one of the leading varieties for local and export markets."
Ian Pears of Shedden Farms Ltd, near York, has been supplying beans to I'Anson for over 10 years. Fuego has been his variety of choice and he generally sees yields of anywhere between 2.8t/ha to 5t/ha depending on the season, and with the secure outlet through I'Anson, the crop has been profitable across the years.
"Unquestionably, this is due to the variety's ability to yield season upon season. Even in the difficult pulse harvest of 2012, Fuego only dropped 3% from its top yield. "
"Bruchid beetle which is one of the challenges to quality of beans is not so much of a problem for us this far north; populations are lower, and we are still able to control it with a spray at flowering."
This is where the value of using certified seed comes into its own, says David Harrison, of Maviga, global pulse processors and traders. "If growers are using FSS and not having it tested, this can lead to serious issues with quality."
"Increasing levels of stem nematode infection in crops would suggest that in some instances, FSS is not being tested rigorously enough. We would seriously advise growers wanting to make the most of this premium opportunity to ensure that the products they supply are the best quality possible."