Crop trial priorities for the first year of AHDB's £1.4 million SCEPTREplus project have been announced by its Steering Group.
The timetable of work will focus on delivering trials specifically targeting key disease, pest and weed problems identified as high priorities in the new 2017-2020 horticulture strategy and also through the AHDB Horticulture gap analysis.
The project consortium led by Agri-Food Solutions consists of NIAB-EMR, RSK ADAS, Stockbridge Technology Centre and the University of Warwick.
Dr Ed Moorhouse, director at Agri-Food Solutions and independent industry chairman of the SCEPTREplus project, said: "There is no question that this project is critical to the viability of the industry and this is reflected through routine grower feedback.
"SCEPTREplus should help considerably in terms of ensuring the future success of the UK industry. The reduced availability of crop protection treatments, such as the imminent loss of linuron, decreases the efficiency of UK production and makes the industry more vulnerable to imports from countries with access to more effective controls or other competitive advantages. Without sufficient tools to practice efficient weed, pest and disease control, some crops will be very hard to sustain."
Key targets for 2017 are: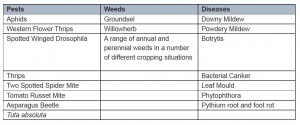 Dr Rosemary Collier, science lead for SCEPTREplus, said: "Some crop protection issues are common to several sectors. For example, downy mildew, while generally host-specific, affects a wide range of protected and outdoor edible and ornamental crops and there is considerable merit in adopting a functional or generic approach to evaluating the efficacy of products and undertaking crop safety screening trials."
Efforts to protect crops effectively are disadvantaged by the limited number of control methods available on individual crops and worsened by the deregistration of certain pesticide products, the limited development budgets in crop protection companies for new products on specialist or minor crops and incidences of resistance to some of the pesticides that are approved.
What does SCEPTREplus aim to do?
Reduce any adverse environmental impacts of crop protection products – SCEPTREplus will focus on new chemistry and non-chemical approaches with improved environmental profiles. Providing growers with access to this new chemistry will reduce the overall adverse environmental impact from the crop protection programme
Provide new biological and integrated control techniques – due to the high level of regulation for crop protection products in the UK/EU, the shift to safer crop protection products, including biopesticides, should minimise any possible negative environmental impacts of the older established products
Reduce supply chain vulnerability – the introduction of new crop protection products and strategies will address risks to the supply chain by increasing the number of options for growers to manage current and future challenges, thereby improving the resilience of UK supply chains and underpinning opportunities to develop export markets.
Joe Martin, crop protection senior scientist at AHDB, said: "We can finally begin to plan work and lay out the foundations of the project in Year 1, undertaking high priority trials, while planning for years 2, 3 and 4 to robustly test all the key priorities. The consortium brings with it a wide variety of knowledge and expertise and will lead the delivery of beneficial crop protection outcomes for the industry."