Bridgestone's agricultural team has celebrated the first year anniversary of its road and field tyre, the VX-TRACTOR, and has been given a series of endorsements from farmers and contractors who have claimed 'phenomenal' levels of performance.
Bridgestone's agricultural sales manager Stephen Lamb admitted being anxious before the product was brought onto the market, but is receiving testimonials from customers claiming up to four times the life of competitor products.
Mr Lamb said: "You are always somewhat hesitant and anxious when you launch a brand-new product into the marketplace; especially one in the highly competitive and harsh operating environment of the agricultural sector.
"But the collected data and feedback has been phenomenal, with a series of highly positive comments coming in to us. Some farmers had even purchased additional sets of VX-TRACTOR tyres for their other tractors, so impressed had they been with the initial fitment. This, coupled with the hard data collected, showed that the VX-TRACTOR was strongly outperforming all other sets of tyres that were previously fitted.
Bridgestone launched the VX-TRACTOR with a two-week road-run of the United Kingdom to show off its capabilities.
During the summer, Bridgestone also visited a number of farmers to obtain tyre data and gain valuable end-user feedback in a real-world environment.
One of those farmers visited, was dairy farmer Richard Bradley, Park Farm, Lancashire.
He said: "They offer a really smooth ride and gave confidence when driving, particularly around corners. It is an excellent gripping tyre.   
"The life of the tyres appear to be vastly superior to the products I have driven on previously, with thousands more miles to be run before I need to contemplate a replacement. They're a great purchase."
Richard's original tyres on his JD 6150R clocked up 4,002 hrs before being replaced with VX-TRACTOR in May 2019. These had worked some 1,250hrs (95% Roadwork) and are projected to achieve some 10,750hrs of work from new.
D.E Pickervance & Sons, Farm Contractors told a similar story and reported greater longevity and performance.
Mr Pickervance said: "We are extremely happy with the tyres performance, with grip, wear-rate, and ride comfort.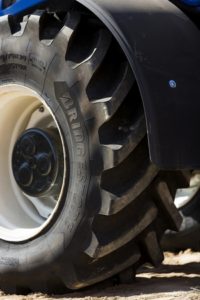 "We call our 7430 the "rescue work-horse" as it's the only tractor that will pull our other tractors out of the deep mud, when they get stuck. So impressed we've fitted another set to our JD 6150R."
The previous tyres were averaging some 4,600hrs of work, the VX-TRACTOR are currently projected to achieve some 10,850hrs of work from new.
Keld Andersen Bridgestone Central and North Europe Agricultural Product Manager, said: "We knew from the beginning – from the design technology and look of the tyre – we had a winner on our hands, but its only now from this data and the feedback from our farming customers, in all types of farming operation, that we can see just how good the product really is, when compared against other upper premium competitors.
As the tyre gains a reputation in the marketplace, farmers are asking for the product by name, and with the introduction this year, of the 85 & 70 Series within the portfolio, we will only continue to see strong sales demand." 
Mr Andersen added: "All this has only been achieved by the sterling support, we have received from our loyal Bridgestone Partner dealer network, who having gained first-hand experience, have confidently promoted the product to their own farming community."
"Where a farmer's requirements are for a long lasting, value for money tyre, heavy road-usage, with strong traction, ride comfort – and performance in a robust environment – they should seriously consider our VX-TRACTOR product. It's a tyre that really does live up to its name and slogan: More Traction…For Longer."
For more information about Bridgestone's agricultural products and solutions, visit https://www.bridgestone.co.uk/agricultural/