It is back to business for NIAB at the 2021 Cereals Event with over 125 different crop and variety plots alongside the always popular Soil Pit exhibit.
The plots provide a backdrop to the latest technical advice and research in variety choice, independent agronomy, soil and rotation management and crop genetics. The variety demonstration area includes 32 winter wheat and 16 winter oilseed rape varieties, either already established on the AHDB 2021/22 Recommended List or candidates.
For 2021 NIAB has focused on its agronomy demonstration area, including plots showcasing fungicide inputs versus yield in winter wheat, new cereal fungicides, advice on grass weed control and trials work on soil amendments. There is also a spotlight on NIAB's plant pathology expertise with the latest developments on yellow rust and field pathogenomics with the UK Cereal Pathogen Virulence Survey team and the RustWatch project, alongside advice and support in disease diagnostics.
NIAB technical director Bill Clark says: "Our untreated winter wheat variety demo plots are always a top attraction at Cereals, giving growers a head start on their variety selection for next season, with differences in disease resistance and performance between the varieties clearly evident."
And for those visitors who would prefer a virtual visit again this summer NIAB will be providing numerous online plot tours featuring NIAB specialists and advisers direct from the show plots near Sleaford in Lincolnshire.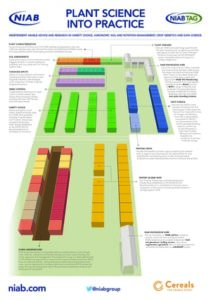 "With the popularity of our virtual variety and disease management plot tours last year I will be joined by NIAB's wheat and oilseed rape variety specialists Clare Leaman and Colin Peters and our crop disease specialist Aoife O'Driscoll, going onto the Cereals Event site and taking viewers by video through the plots as if they were there with us.
"The aim is to cover all these topics, and more, with videos and webinars, available on NIAB's own Virtual Event Hub at www.niab.com, alongside downloadable guides, topic sheets and information posters that will also be available at the event. It is part of our continuing commitment to support UK farmers and agricultural businesses through this extraordinary crisis," explains Mr Clark.
The Soil Hole
The 20 metre long 2021 NIAB Soil Hole is back again with this year's surrounding plots showing alterative break crops, herbal ley mixtures and a hybrid versus conventional comparison of above and below ground crop growth in winter oilseed rape, wheat and barley.
"Rotational decisions are often made with limited thought about the impact on soil," says NIAB's Head of Farming Systems Dr Elizabeth Stockdale. "Herbal leys allow growers to consider their rotational diversity options and we will also take a look at some crop alternatives to winter oilseed rape, including canary seed, spring linseed, lentils and ahiflower and a look at spring legumes with plots of lupins, peas and field beans."